For how simple this Berry Cheesy Stuffed Waffles recipe is to make, it is amazingly delicious! It uses only a few simple ingredients sandwiched between toasted frozen waffles.  If someone in your family isn't a fan of raspberry, you can swap out other flavors of jam or jelly. This is also great with made with jam from a homemade strawberry jam recipe!

Berry Cheesy Stuffed Waffles Recipe


INGREDIENTS:
1/2 cup whipped cream cheese
1/3 cup ricotta cheese
2 tablespoons confectioner's sugar
4 Tbsp raspberry preserves or raspberry jam
8 frozen waffles
DIRECTIONS:
Mix the cream cheese, ricotta cheese and sugar in a small bowl. Toast the waffles. Spread four of the waffles with jam. Spread the other four waffles with the cheese mixture. Sandwich waffles together in pairs. If you like, dust tops with a little extra confectioner's sugar. Enjoy!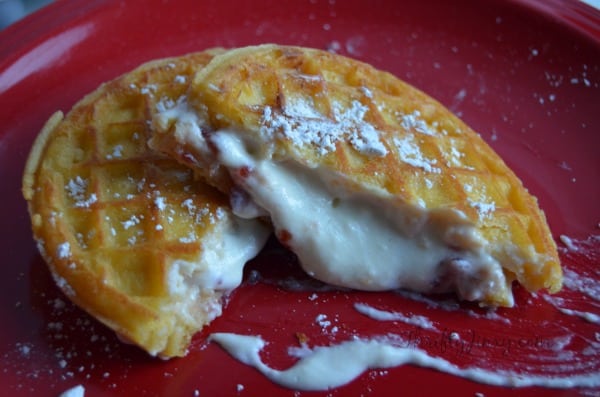 For an extra delicious treat with just a bit more work, defrost the waffles instead of toasting them. Form your sandwiches and then grill in butter on a griddle – just like a grilled cheese sandwich. SO GOOD!!