This Vegetarian Tamale Pie Recipe with a cornbread top is a favorite in our house.  In this meatless version, we substitute bulgur wheat for the traditional ground beef with bulgur wheat.  Believe it or not my husband likes this version much better than when I used to make it with beef! It's a perfect all-in-one meal for the "reluctant vegetarian".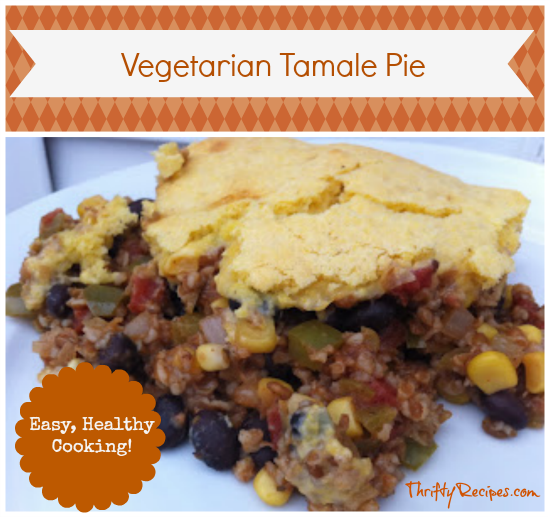 Vegetarian Tamale Pie Recipe
1 cup bulgur wheat
2 1/4 cup boiling water
2 Tbsp olive oil
1 small onion, diced
1 green pepper, diced
2 cloves garlic, minced
2 packets taco seasoning (or use our Make Your Own Taco Seasoning recipe)
1 15-oz can diced tomatoes
1 15-oz can black beans, drained
1 15-oz can whole kernel corn, drained
1 8 oz. pkg. cornbread mix (or make your own)
In a saucepan, pour about the boiling water over over the bulgur, cover the pan, and allow it to stand for about 30 minutes.  Drain excess water from bulgur.
Heat olive oil a large skillet.  Add in onion and green pepper and sautée until softened.  Add garlic and cook 1 minute, stirring constantly.  Add in taco seasoning, tomatoes, corn and beans. Cook 2-3 minutes.  Stir in prepared bulgur wheat.  Prepare cornbread according to package directions.
Transfer wheat & veggie mixture to a 1 1/2 quart casserole or a 9×9 square pan.  Spread cornbread mix on top and spread as evenly as you can.  Cook according to directions on cornbread box, or until golden brown.