This really has to be one of the easiest recipes EVER! It only uses a few ingredients and it sits cooking in your crockpot all day! It tastes delicious served on buns or just on a plate with a side of potatoes and veggies.
Easy Slow Cooker BBQ Beef Recipe

Ingredients:
3 pound beef chuck roast
1 1/2 cups BBQ Sauce
6 cloves garlic, peeled and halved
salt and pepper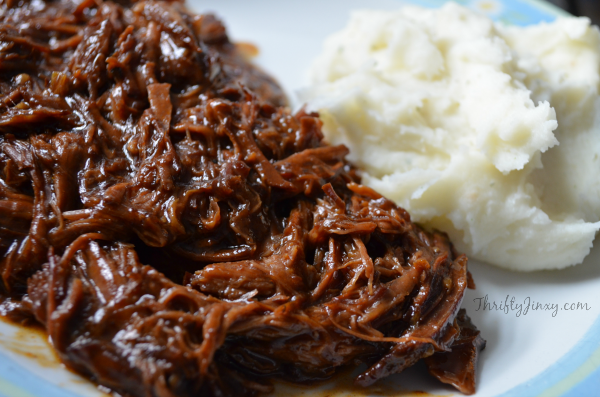 Directions:
Place the beef in the slow cooker. Cut 12 deep slits spread out over the surface of all sides of the roast. Press 1/2 clove of garlic into each slit. Sprinkle both sides of roast with salt and pepper. Add BBQ sauce and turn roast to coat all sides. Cook on low 7 to 8 hours or until meat shreds easily by pulling it apart with two forks.
To serve, place on sturdy buns like kaiser rolls, or just serve on a plate alongside mashed potatoes (which is how my husband likes it).
Enjoy!!