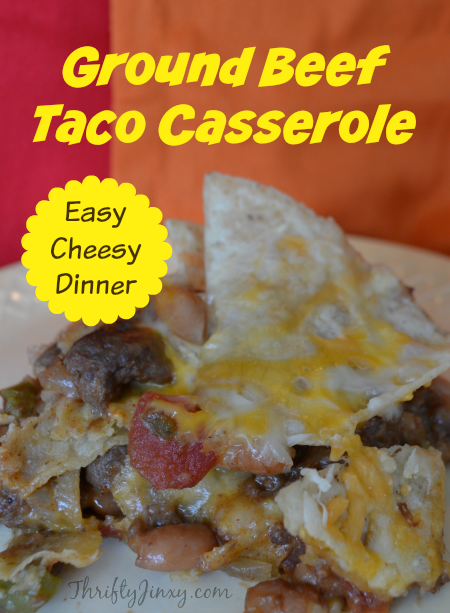 This Easy Taco Casserole Recipe is one that I have been making for about as long as I have been cooking on my own. That's because it is EASY and it is GOOD!! It's so simple to assemble without a lot of time and the result is delicious. It also makes GREAT leftovers, but I recommend heating them up in the oven rather than the microwave if you want the chips to stay crispy.
The recipe uses a packet of taco seasoning mix, but you can substitute your own homemade taco seasoning – something that is super easy to mix together and keep on hand in your pantry. Another possible variation for this recipe is to make it with chicken instead of beef. To do that, I just dice up two chicken breasts and make sure it is cooked all the way through as the first step of the recipe preparation.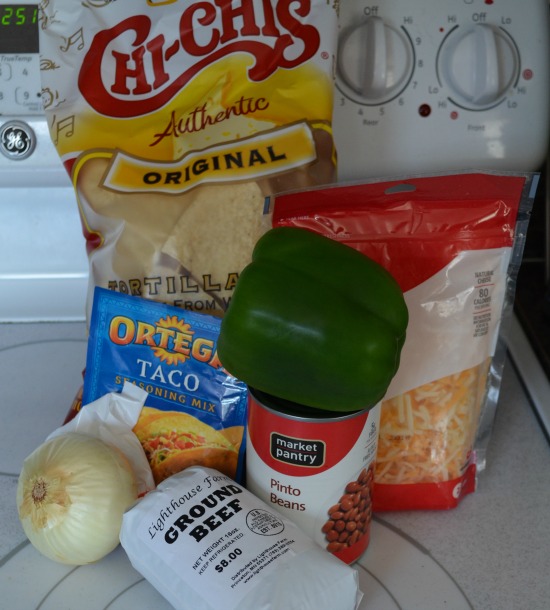 Easy Taco Casserole Recipe
Ingredients:
1 pound ground beef
1 small onion, chopped
1/2 green pepper, chopped
1 packet taco seasoning (or make your own)
14.5 oz diced tomatoes
1 15.5 oz can pinto beans (drained and rinsed)
1/2 bag tortilla chips
8 oz shredded cheddar or Mexican blend cheese
Directions:
Preheat oven to 350 degrees. Brown ground beef with onion and green pepper. Drain fat.
Add in taco seasoning, undrained tomatoes and pinto beans. Cook until heated through.
Cover the bottom of a 9×9 baking dish with a layer of tortilla chips. Cover with half the meat mixture. Sprinkle with 1/3 of the cheese. Add another layer of chips. Add the rest of the meat mixture. Sprinkle with another 1/3 of the cheese. Add a last layer of chips and top with the remaining cheese.
Bake for 20-30 minutes or until cheese is melted and beginning to brown.