Semi-Homemade Apple Cinnamon Pastry With Berry Syrup
Do not be afraid, this recipe is easier than it looks. Create a bakery style pastry in just 15 minute prep time. The best thing about semi-homemade recipes is just that… they are semi-homemade. Semi-homemade refers to a recipe that uses pre-made or packaged items as a short cut combined with your other ingredients, but with homemade results. It is quite fabulous and saves a lot of time.
Follow the steps below and be your own pastry chef for an evening!
Ingredients:
1 Can apple pie filling
16 4×4 puff pastry squares
3/4 cup Powdered sugar
1 cup Sugar + 1 teaspoon
2 teaspoon Cinnamon<
3/4 cup Melted Butter
Berry Syrup
1 Pint strawberries
1 cup sugar
Directions:
1. Preheat oven to 350 degrees.
2. Lay 8 puff pastry squares on a cookie sheet, brush with melted butter.
3. Scoop one spoonful of apple pie filling onto each square, gently spread out to 1/2 inch from edges
4. Place a puff pastry square on top of each, lightly press down, brush with melted butter
5. Bake for about 15 mins or until golden brown.
6. Remove from oven and brush with melted butter, sprinkle cinnamon & sugar
For the syrup- use this homemade method OR just buy a container of frozen strawberries in syrup!
Puree the strawberries in a blender, add to a medium sauce pan with 1 cup of sugar. Mix well.
Slowly heat to boiling, constantly mixing. You do not want your berries to burn, so keep mixing, juices will be extracted as the heat and the sugar dissolves.
If for some reason your berries are not juicy, add 1 teaspoon of water. Cook on medium high until slightly thickened, about 10 minutes. Remove from heat, strain to remove seeds and strawberry pulp. Let cool completely.
Finish by drizzling the berry syrup over the pastry, garnish and serve!
Optional icing/glaze: 1/2 cup Powdered sugar, 1 teaspoon of milk, mix and add milk until desired consistency is reached.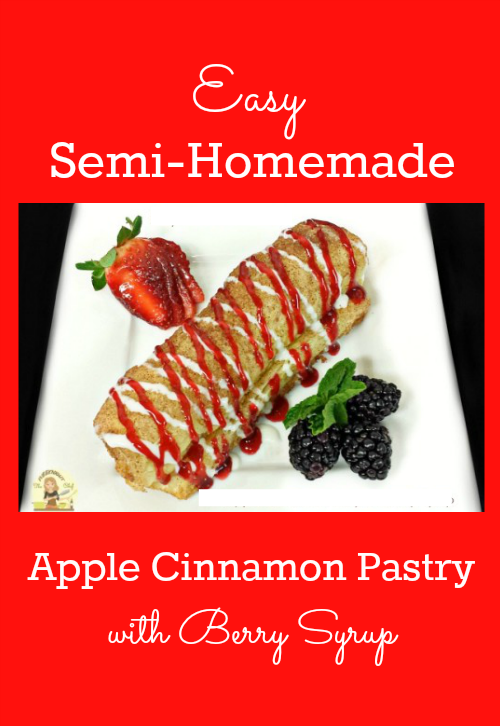 [yumprint-recipe id='4′]