I have gone my whole life never tasting a macadamia nut cookie. Every time we visit Subway I choose the double chocolate. Something about the white chocolate macadamia nut just never really appealed to me, something about the lack of color. I know, sounds crazy right?  Well, it is said that we eat with our eyes first, so I guess that is why!  A friend convinced me to try a bite of her's and it wasn't that bad. I just thought the cookie needed something else.  More color, another level of flavor.  My solution- add cranberries!
Guess what is my new favorite?  This Cranberry White Chocolate Macadamia Nut recipe.  I would take these over my chocolate cookie any day.  I love that they are not overly sweet. The base of the cookie is light and fluffy with a slight crunch around the edge.  Plump cranberries, nutty chocolate..  what more could you want?
Cranberry White Chocolate Macadamia Nut Cookies Recipe
Ingredients
1 cup packed brown sugar
1⁄2 cup white sugar
2 sticks butter, softened
2 large eggs
2 teaspoons vanilla
2 1⁄4 cups flour
1 teaspoon baking soda
1⁄4 teaspoon salt
1/2 cup dried cranberries
1 cup coarsely chopped macadamia nuts
1 1⁄2 cups white chocolate chips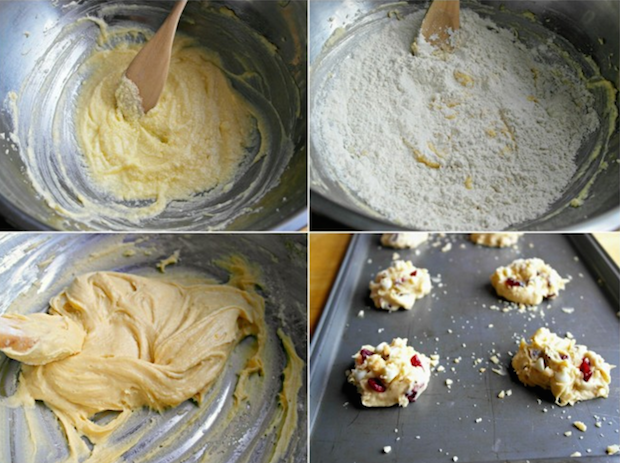 Instructions
Preheat the oven to 350 degrees.
Cream together the butter, sugar, eggs and vanilla with an electric mixer.
In a separate bowl, sift flour, baking soda and salt.
Mix the flour into the creamed butter, a little at a time.
Once combined completely, fold in the cranberries, chocolate chips and nuts.
Spoon onto a cookie sheet and bake for 10-12 minutes or until golden brown.
Notes
These freeze really well. Make a double batch and freeze for parties or holidays.