Stuffed Chicken Breast With Homemade Gravy in 30 Minutes
Craving a hearty, warm you up kind of meal on a cool , drab day? This is the perfect recipe. Add some mashed potato and you will be on your way to a comfort food coma!
What you need:
What to do:
Using the technique shown in the video below, butterfly each chicken breast.
Fill with prepared stuffing, be careful not to over stuff you want the chicken to fold closed easily.
Drizzle with olive oil and sprinkle seasonings (optional) like garlic powder, salt & pepper, Italian blend
Bake on 350º for about 30 minutes , cook times will vary, make sure your chicken is cooked thoroughly, stuffed meat tends to take longer.
Cut in half diagonally, serve with gravy!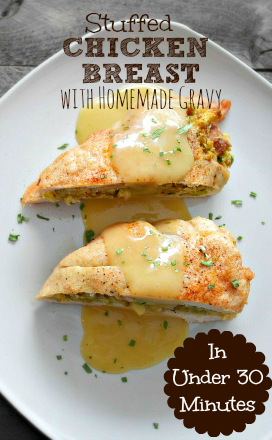 For the gravy:
Packet method- Well, the quickest and easiest way to make your gravy may not be considered homemade, but at least it doesn't come from a can- mix one chicken gravy packet into 1 cup of water, whisk well and microwave on High for 2 minutes. This will bring the liquid to a boil. Mix, then let sit. Will thicken upon standing.
Bouillon cube- This is quick also, but I think it can be too salty. Usually I make my own gravy from pan drippings, this recipe just doesn't create enough to do that. Dissolve the cube into 1 cup of water, heat on High in the microwave for about 2 minutes. Mix the flour into 1 tablespoon of water to create a slurry then add it to the chicken bouillon. Mix well, heat on high for 1 minute, mix, then let sit. Will thicken upon standing.