Beer Braised Sausage On Sweet & Spicy Warm Slaw
This yummy beer braised sausage recipe offers taste of summer year round!  Guiness beer. Sausage. Peppers. Those are just a few of the ingredients that make this dish a stand out!  That Guiness beer also makes it just perfect to serve as a St. Patrick's Day meal!
For this recipe you won't need your grill, so if it is stored for the winter .. not a problem.  This sausage is braised and slow cooked in beer and served over a slaw.  No, not cole slaw – that would be for summer.  We are talking about a warm slaw with a kick.  Sweet & spicy to keep you warm this winter.  The recipe is easy to adjust the spice level just in case you are not a fan of spicy.
Just look at all this color !  Fresh, crunchy, flavorful.  It won't be long before this is a new favorite in your household.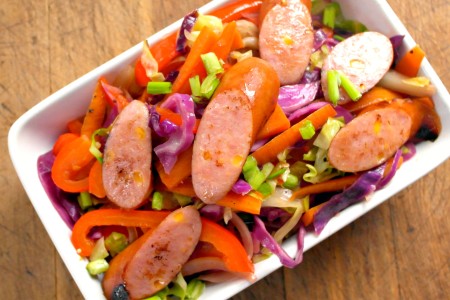 Ingredients
1 bottle Guiness Beer
Sausage of your choice (we used a German Cheddar Sausage)
1 tablespoon dijon mustard
Salt & Pepper
For the slaw
1 cup shredded cabbage
2 large carrots, shredded
1 red pepper, sliced thin
1 tablespoon apple cider vinegar
1 tablespoon white sugar
1/2 teaspoon minced garlic
1/2 teaspoon red pepper flakes (optional)
1 teaspoon olive oil
Salt & Pepper
For the sausage
In a skillet on medium high heat, drizzle olive oil and add sausages. Brown on each side (about 1 minute)
Add the beer, mustard and a pinch of salt & pepper.
Bring to a boil, reduce to simmer.
Cook for 15 minutes covered and an additional 10 minutes without the cover.
Remove the sausages from the pan and set aside.
For the cabbage
In the same skillet, over medium heat drizzle olive oil and add vegetables
Mix in the vinegar, sugar, garlic and seasonings.
Saute for about 10 minutes, add sausage back to the pan on top of the slaw.
Heat through together covered until sausage is warmed again.
Serve hot with a drizzle of dijon mustard!