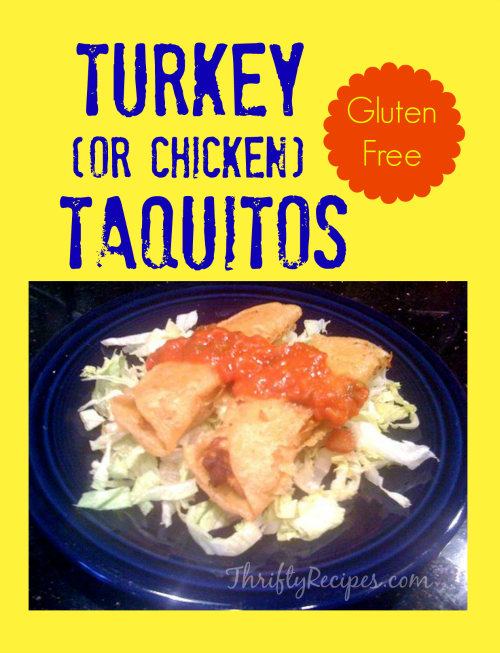 This recipe comes from Christy at The Shopper's Apprentice. These Turkey Taquitos are a great way to use up leftover turkey, or you can substitute chicken if that's what you have on hand. They are crispy and delicious and a way to turn your leftovers into something special!
Turkey Taquitos Recipe
12 corn tortillas
1 lb. cooked turkey, shredded (or chicken)
1 onion, chopped
1 package Taco seasoning
3/4 cup hot water
1 clove garlic, minced
Vegetable oil
Lightly sprinkle each tortilla with water. Wrap the stack in aluminum foil and place in a 200 degree oven for 10 minutes to soften.  Leave in foil until ready to use.  In a skillet, combine meat, seasonings, water, onion, and garlic.  Stir well. Bring to a boil, reduce heat and simmer 10 minutes. Place 2 Tbsp of the mixture in the center of each warmed tortilla. Roll up tortillas tightly, securing with toothpicks. In a large, deep saucepan, heat oil to 375 degrees. Fry rolled tortillas in oil until golden brown and crisp. Drain on paper towels.  Keep warm in oven.  Remove toothpicks before serving.  To serve, place on a bed of lettuce and garnish with salsa and guacamole.